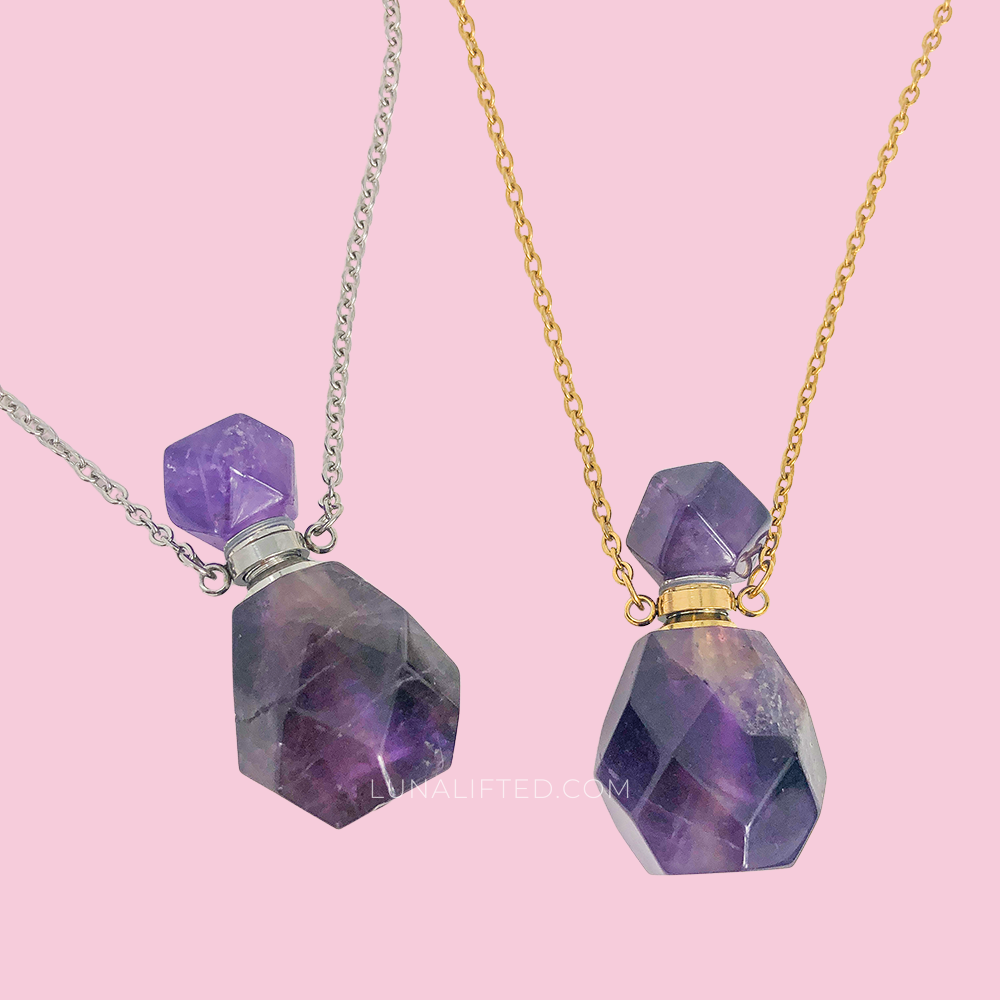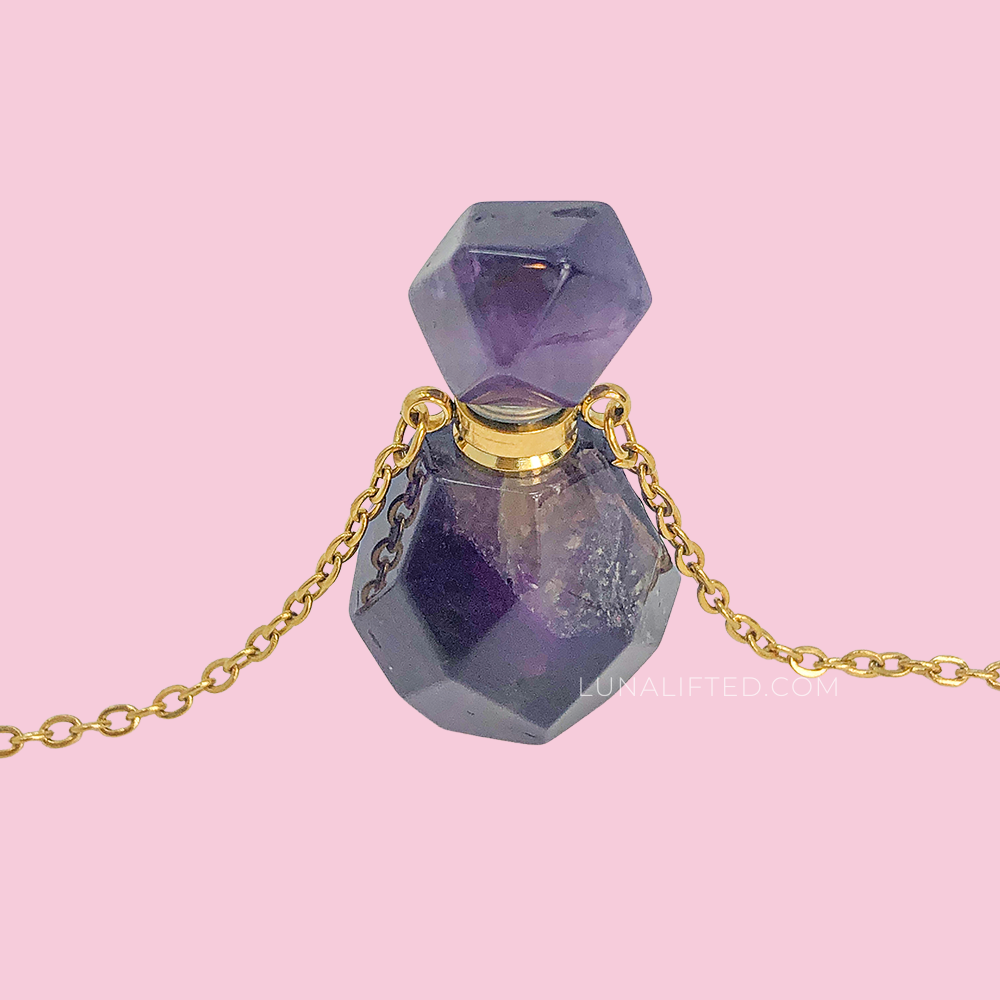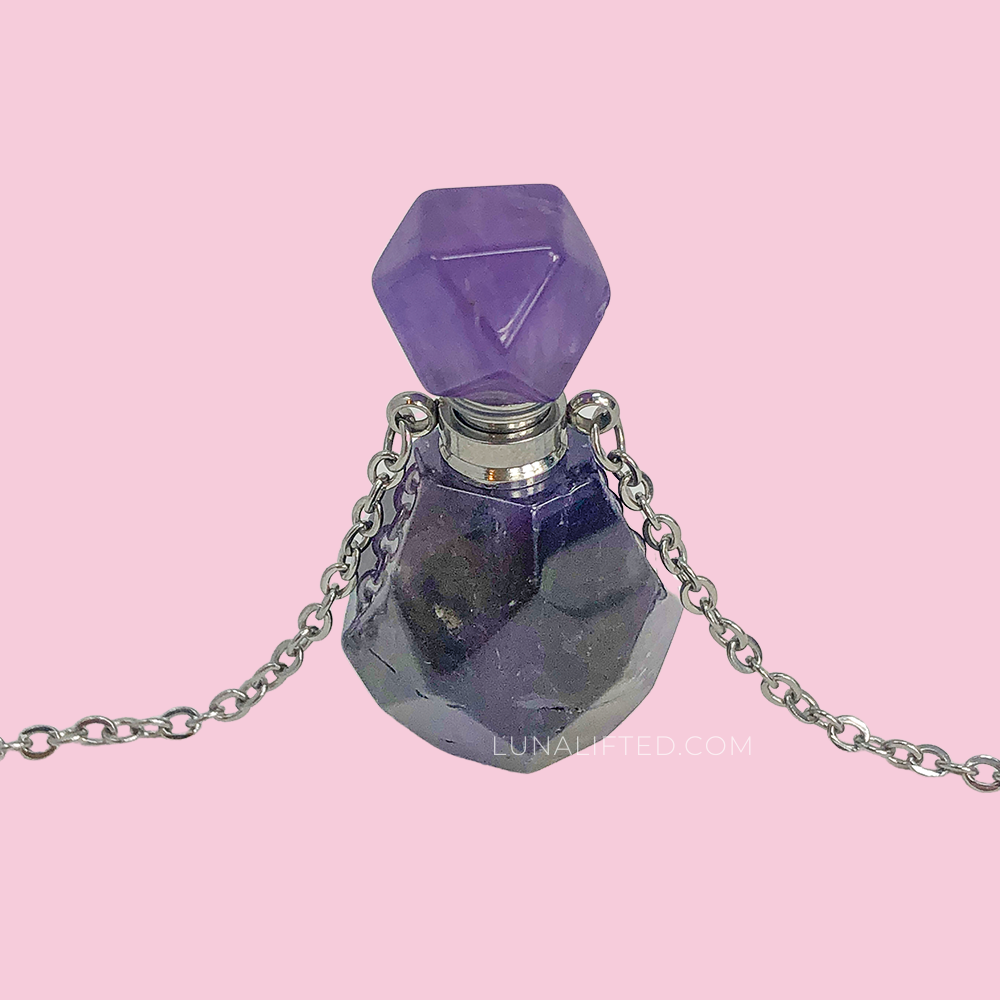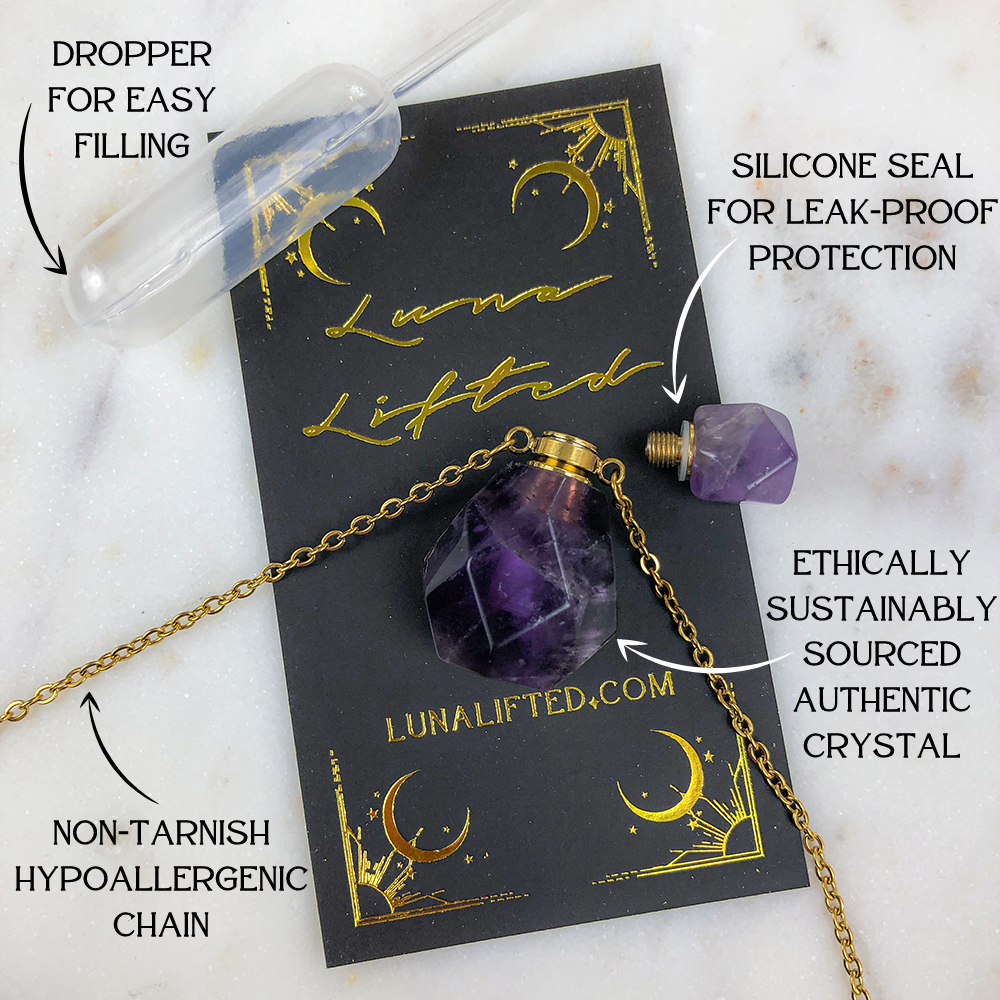 Amethyst Potion Bottle Necklace
Amethyst has healing powers to help with physical ailments, emotional issues, energy healing and chakra balancing. The Amethyst crystal properties are deeply connected to the third eye chakra, the center of spirituality and intuition, and the crown chakra, the chakra that governs our connection to the universe. These energy centers can be associated with the color purple, which is why Amethyst is such a powerful stone to balance, open, and activate the third eye and crown chakras.
Amethyst provides a connection to the Divine by stilling the mind and inspires an enhance meditative state. Use Amethyst when you need to focus on work or creative projects. Amethyst's ability to expand the higher mind enhances one's creativity and passion. It strengthens the imagination and refines the thinking processes. It helps in executing new ideas, putting thought into action and bringing projects to life.
Amethyst Associations
Chakra: Third Eye Chakra & Crown Chakra
Zodiac: Virgo, Sagittarius, Capricorn, Aquarius, Pisces
Element: Air/Water
Numerical Vibration: Number 3
chain measures 18 inch + 2inch extender
chain is made of 18k gold/silver plated non-tarnish brass material
ethically and sustainably sources tumbled authentic crystal pendant

each potion bottle pendant may vary in size and shape as each crystal is unique
comes with a dropper to easily add your own essential oils, moon water, elixir, or whatever potion your heart desires
DISCLAIMER: Please make sure to screw the top of the bottle on completely before wearing. Each pendant has a silicone seal installed on the screw on ball top to prevent leakage. The bottles have been quality checked so we cannot be held liable for the bottle falling and breaking if you don't twist the top on properly.
Every Luna Lifted Gem is bathed under a Full Moon infusing it with moonlight 🌙
Every Luna Lifted Gem is bathed under a Full Moon infusing it with moonlight 🌙
✨All of our jewelry is made with either copper/brass, stainless steel, or sterling silver as the base metal with 18-24k gold layering ontop of it (see description for specifics). Because we use stronger base metals, your jewelry will not tarnish if properly cared for.
✨Every piece is hypoallergenic, cadmium free, and nickel free. However, everyone's skin is uniquely different and may react differently to certain metals.
✨See our JEWELRY CARE PAGE for more details.
✨All orders are shipped from Minnesota, U.S.A. within 1-3 business days (Monday-Friday excluding holidays).
✨All orders will receive an email with a tracking number once the order has shipped. Make sure to check your spam/junk folders if you don't recieve a confirmation right after you order.
✨Shipping estimates are 2-4 business days for domestic (U.S.) orders and 5-15 days for international orders. **Delays may occur with shipping especially over the holiday season**
✨You have 30 days to contact us regarding a return or exchange. Please see our Shipping, Refunds & Exchanges page for more details.