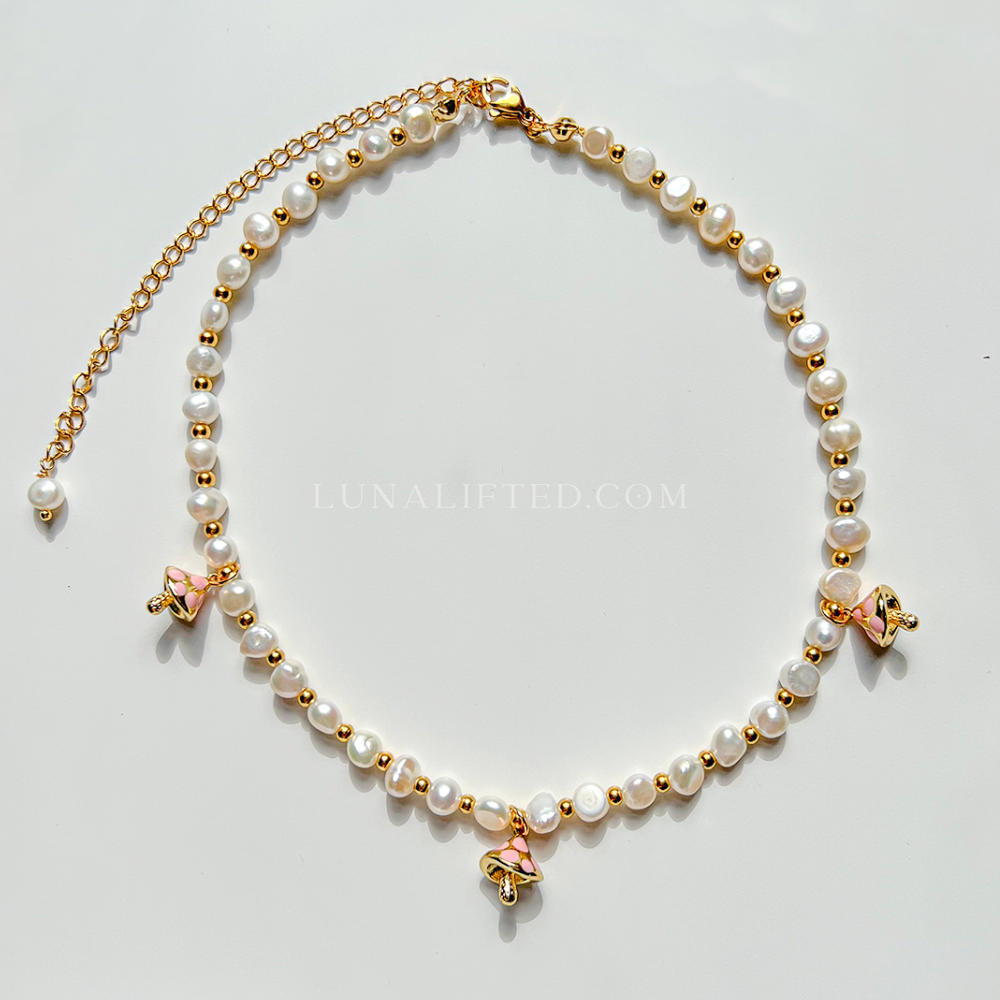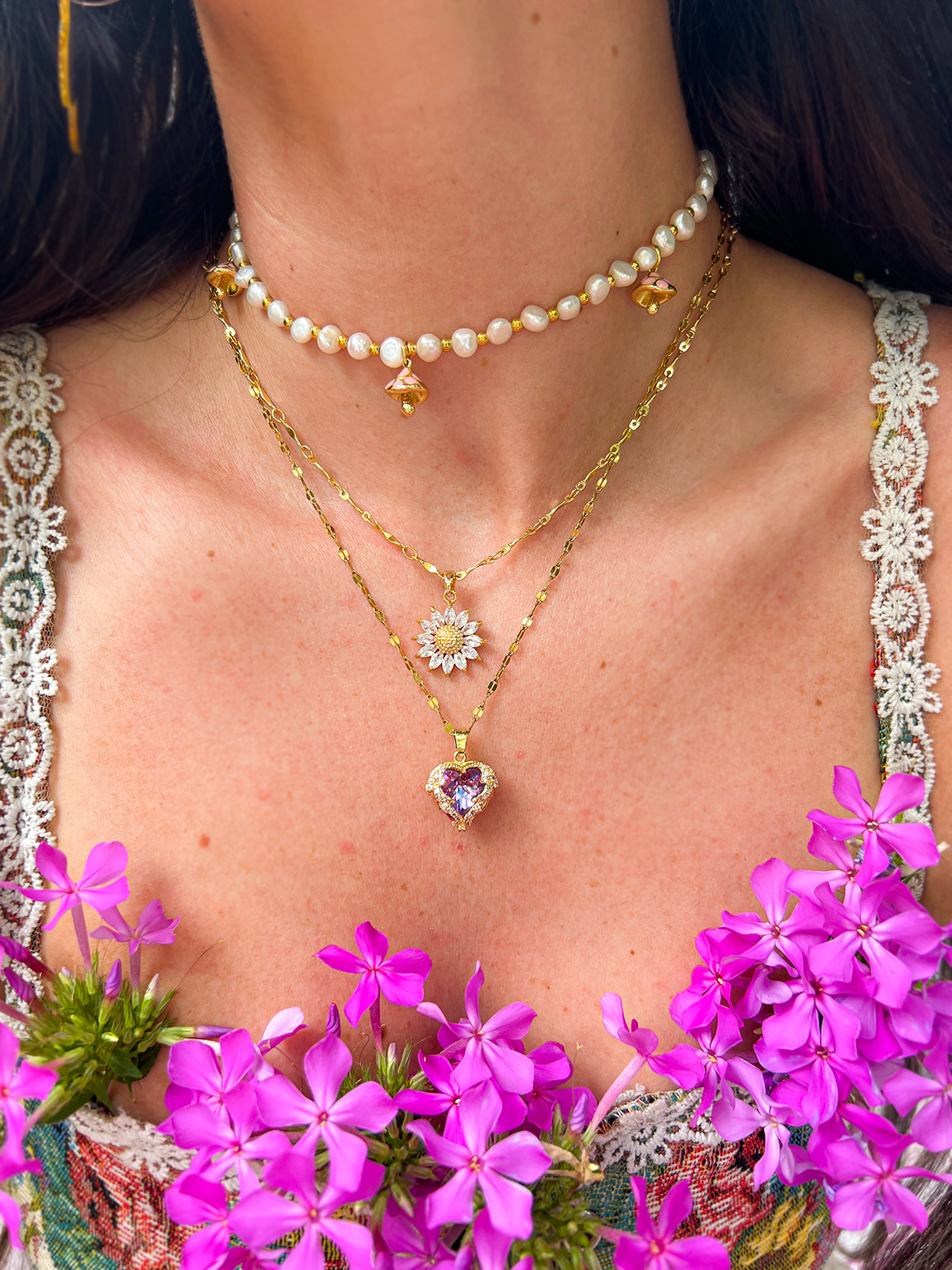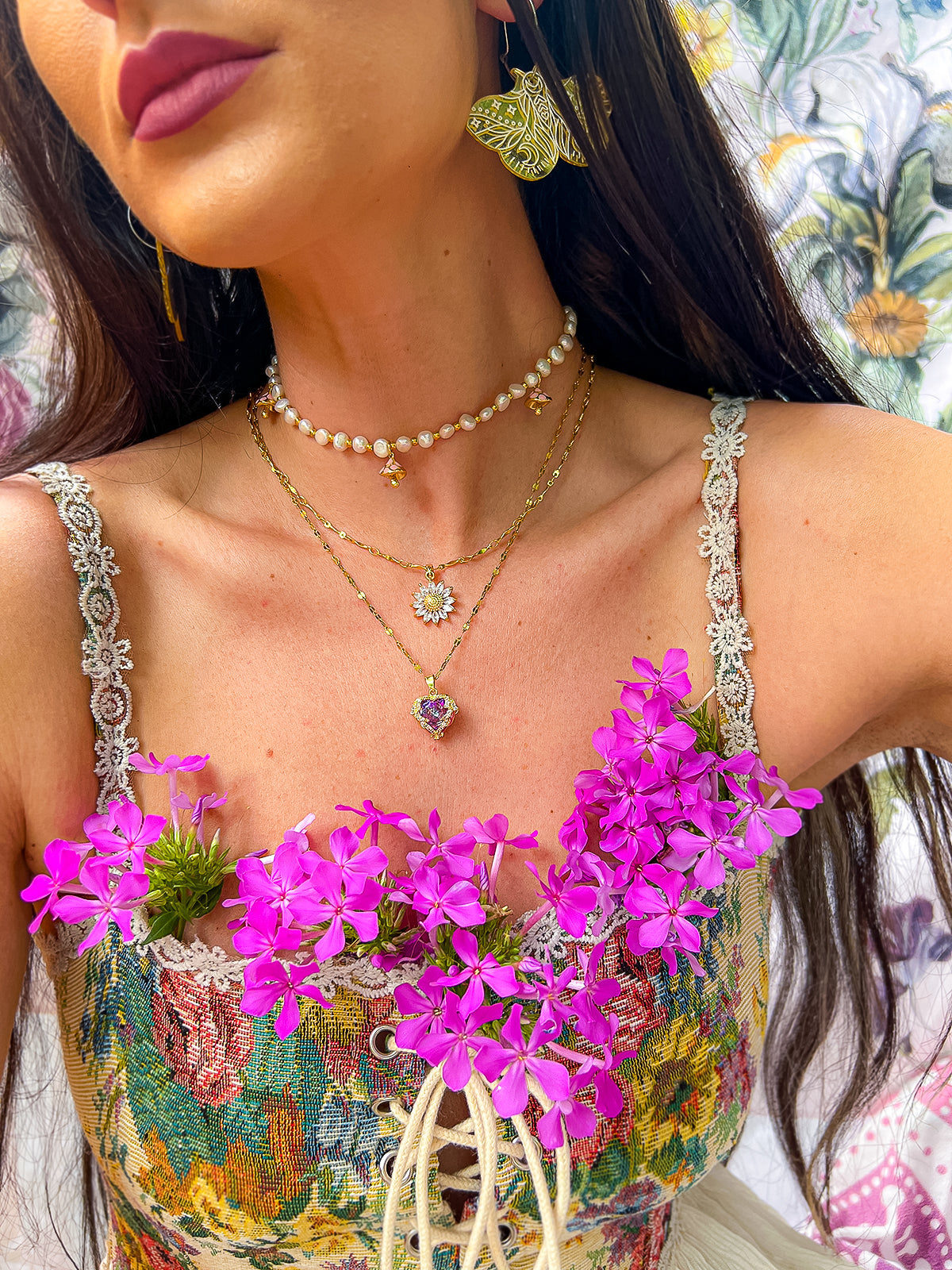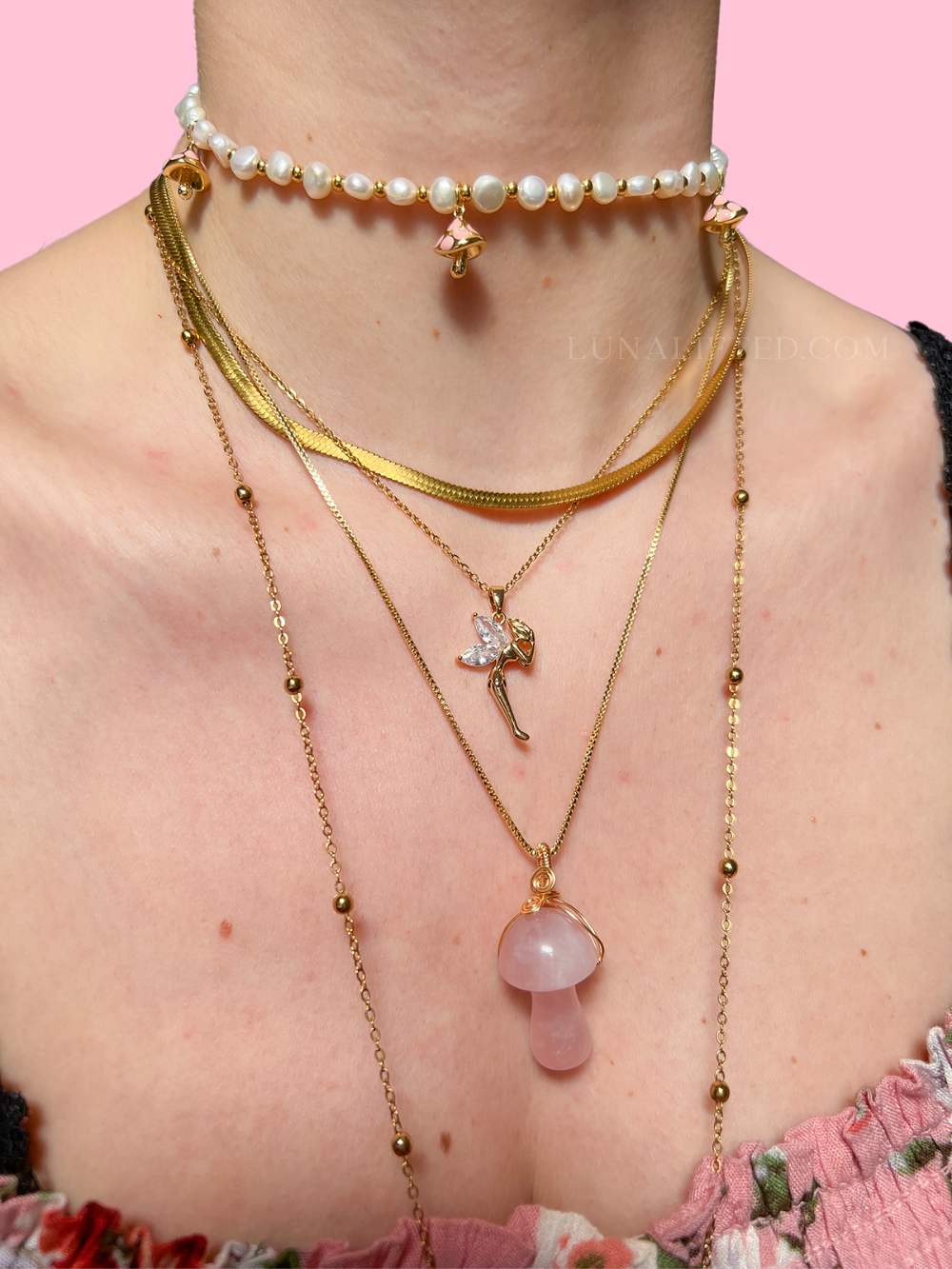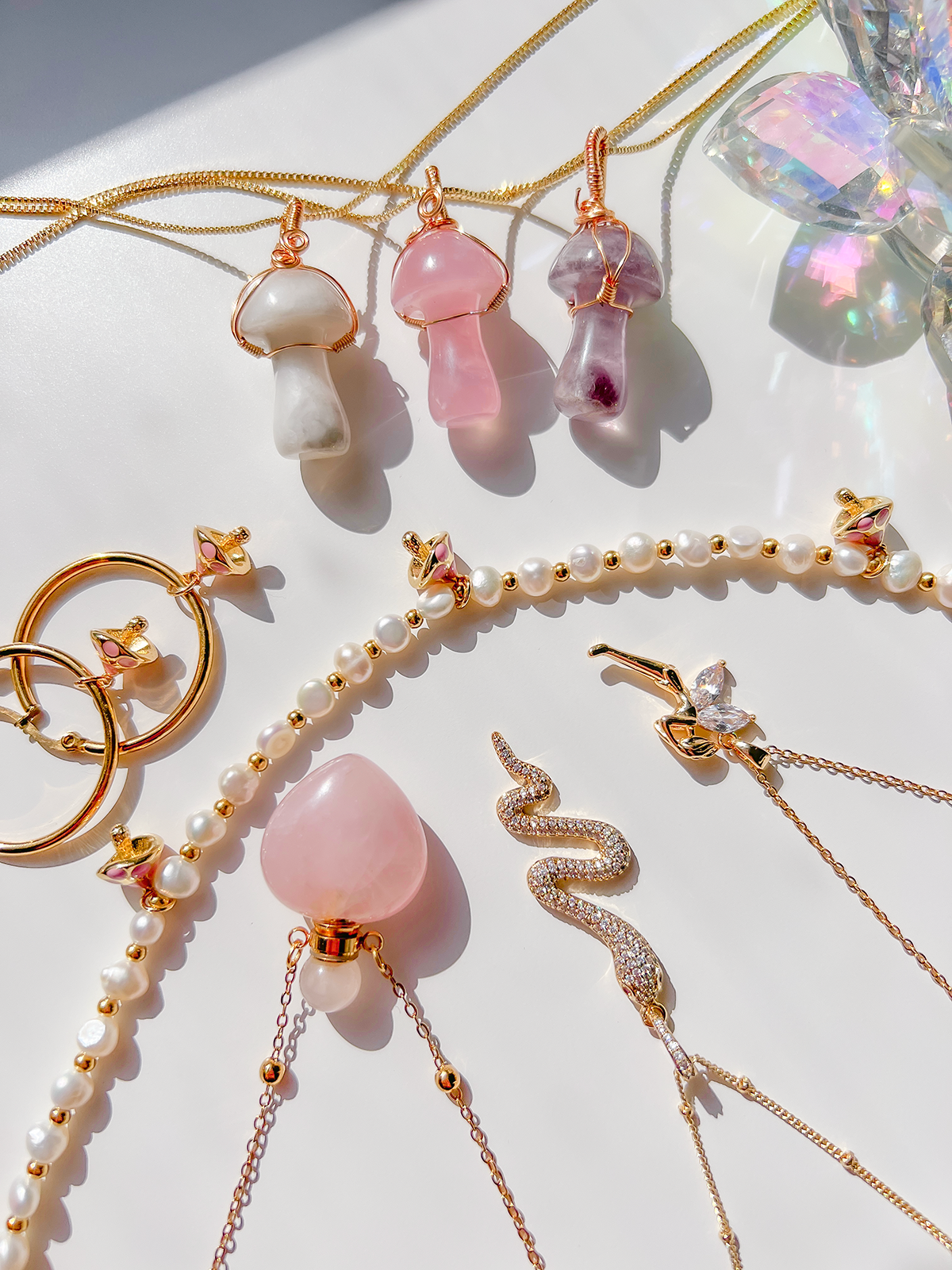 Fairy Ring Pearl Necklace
Chain Length:
13 inch + 2 inch extender
And I serve the fairy queen, to dew her orbs upon the green…
A Fairy ring is a term for mushrooms that appear in a circular formation, usually in forests or grassy areas. They are believed to be the dwelling place of fairies, elves, witches, and other magical beings.
When a mushroom spore lands in a favorable location, the underground fungus roots grow out evenly in all directions. As the fungus grows and ages, the oldest parts in the center of the mat die, creating a circle. When the fungus produces its mushrooms – the fruiting bodies – they appear aboveground in a ring.
The Fungi Fairy Hoop was inspired by the folklore of the Fairy Rings. Some legends say that fairy rings are, in fact, good luck. They are said to improve fertility and fortune in crops growing nearby. In Germany, fairy rings were called Hexenringe, or "Witches Rings," and were believed to be places where witches danced to celebrate Walpurgis Night, a festival that welcomes the beginning of spring.
18k gold plated stainless steel chain beaded with small freshwater pearls and three dainty mushroom charms
non tarnish, waterproof, hypoallergenic chain
TO WEAR AS A CHOKER: we recommend selecting the chain length 13 in. + 2 in. extender
TO WEAR AS A NECKLACE: we recommend the 15 in. + 2 in. extender. (If you wish to wear it as a choker but have a wider neck we recommend the 15 inch length.)
Every Luna Lifted Gem is bathed under a Full Moon infusing it with moonlight 🌙
✨All of our jewelry is made with either copper/brass, stainless steel, or sterling silver as the base metal with 18-24k gold layering ontop of it (see description for specifics). Because we use stronger base metals, your jewelry will not tarnish if properly cared for.
✨Every piece is hypoallergenic, cadmium free, and nickel free. However, everyone's skin is uniquely different and may react differently to certain metals.
✨See our JEWELRY CARE PAGE for more details.
✨All orders are shipped from Minnesota, U.S.A. within 1-3 business days (Monday-Friday excluding holidays).
✨All orders will receive an email with a tracking number once the order has shipped. Make sure to check your spam/junk folders if you don't recieve a confirmation right after you order.
✨Shipping estimates are 2-4 business days for domestic (U.S.) orders and 5-15 days for international orders. **Delays may occur with shipping especially over the holiday season**
✨You have 30 days to contact us regarding a return or exchange. Please see our Shipping, Refunds & Exchanges page for more details.