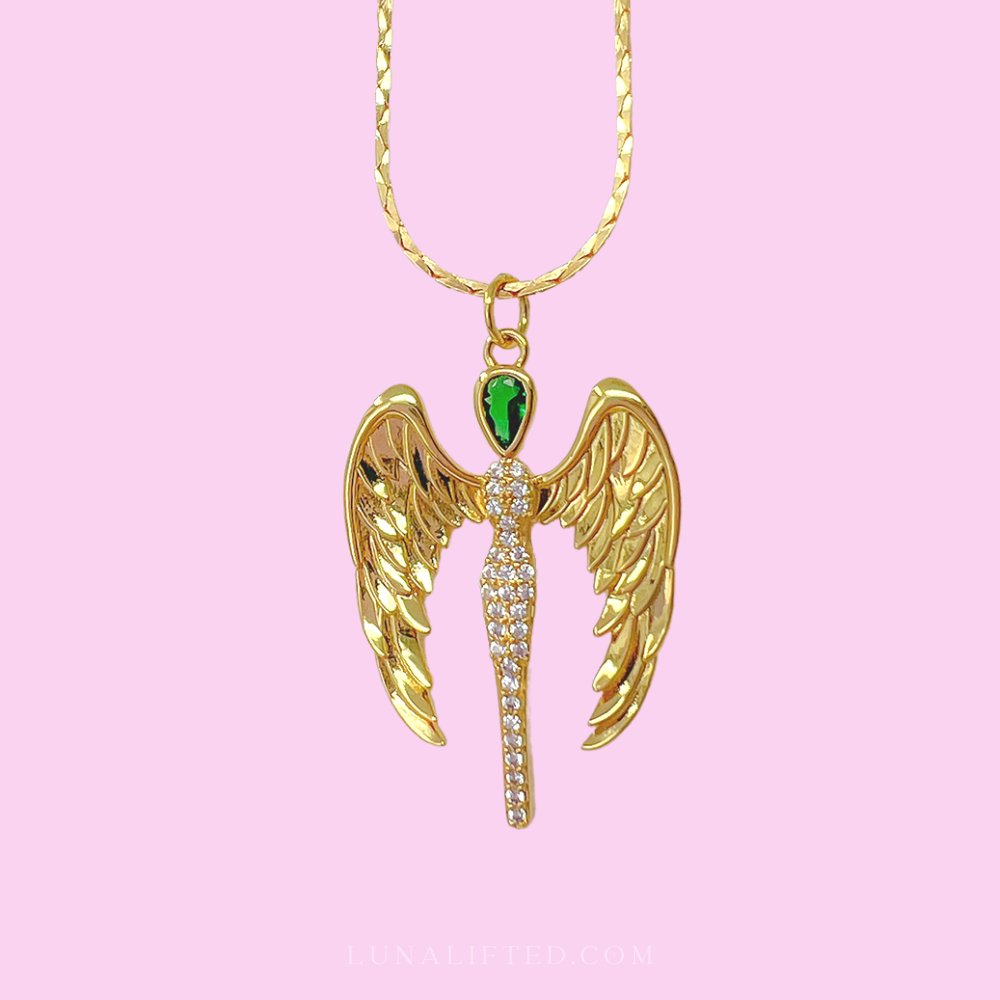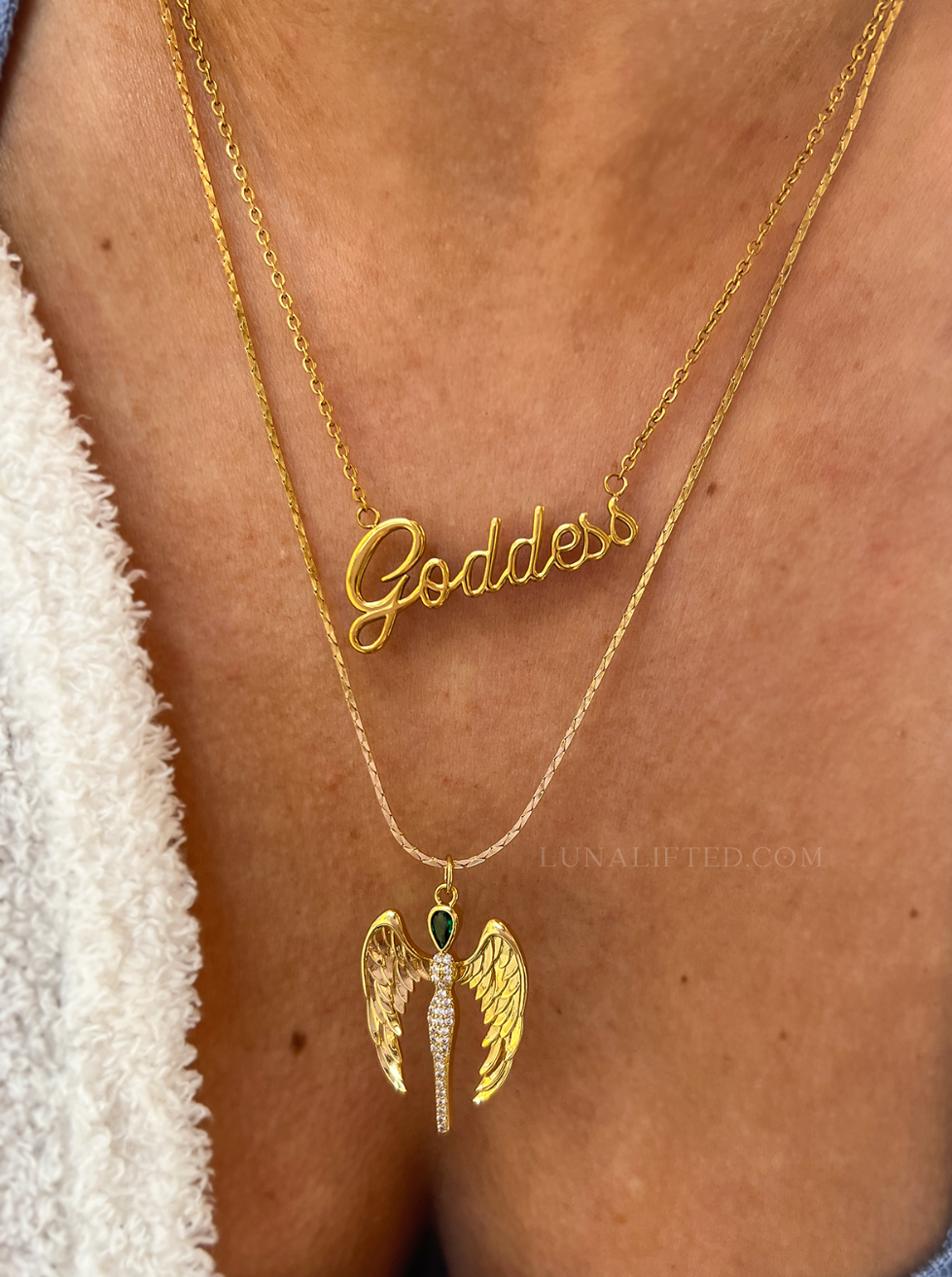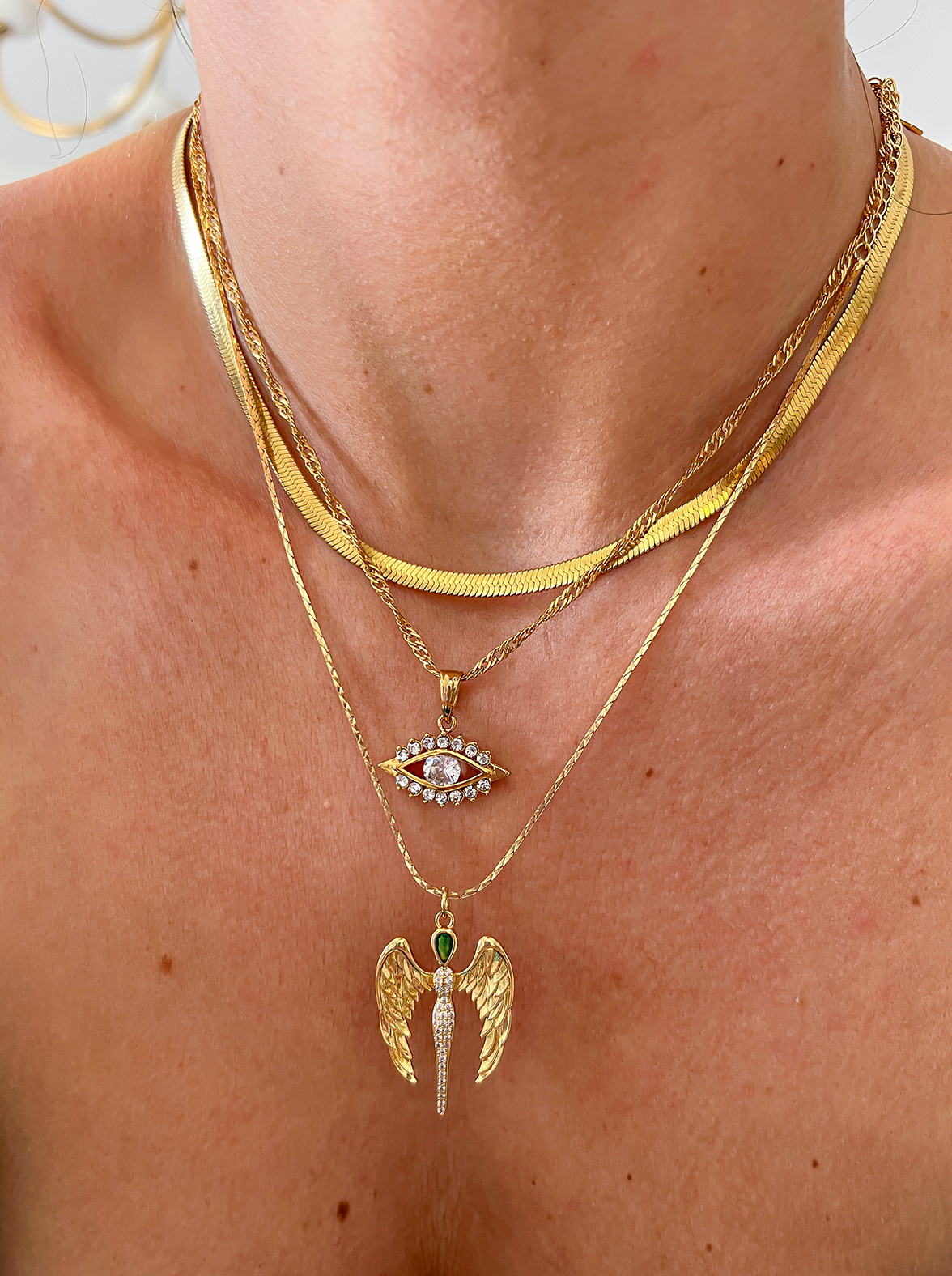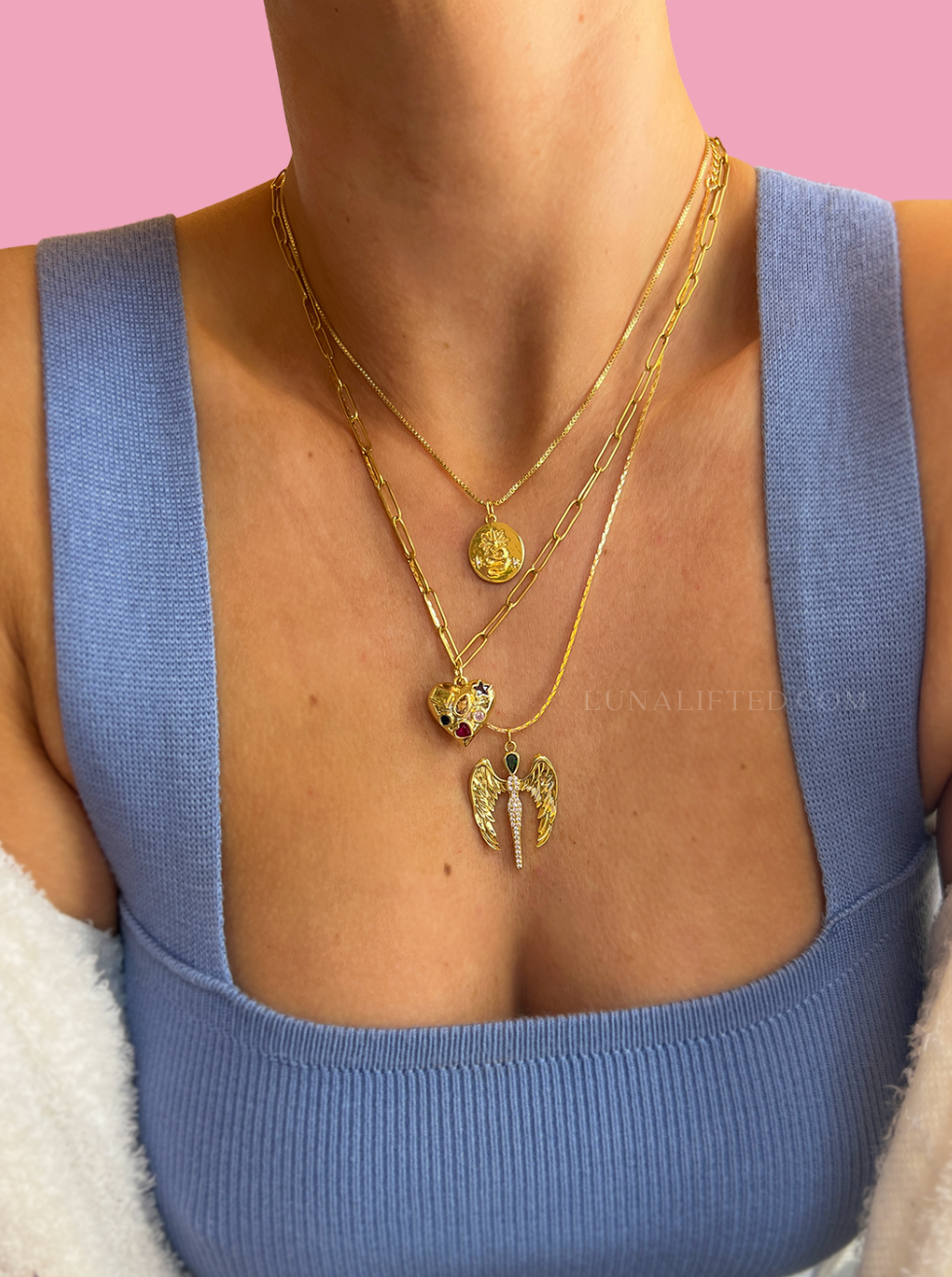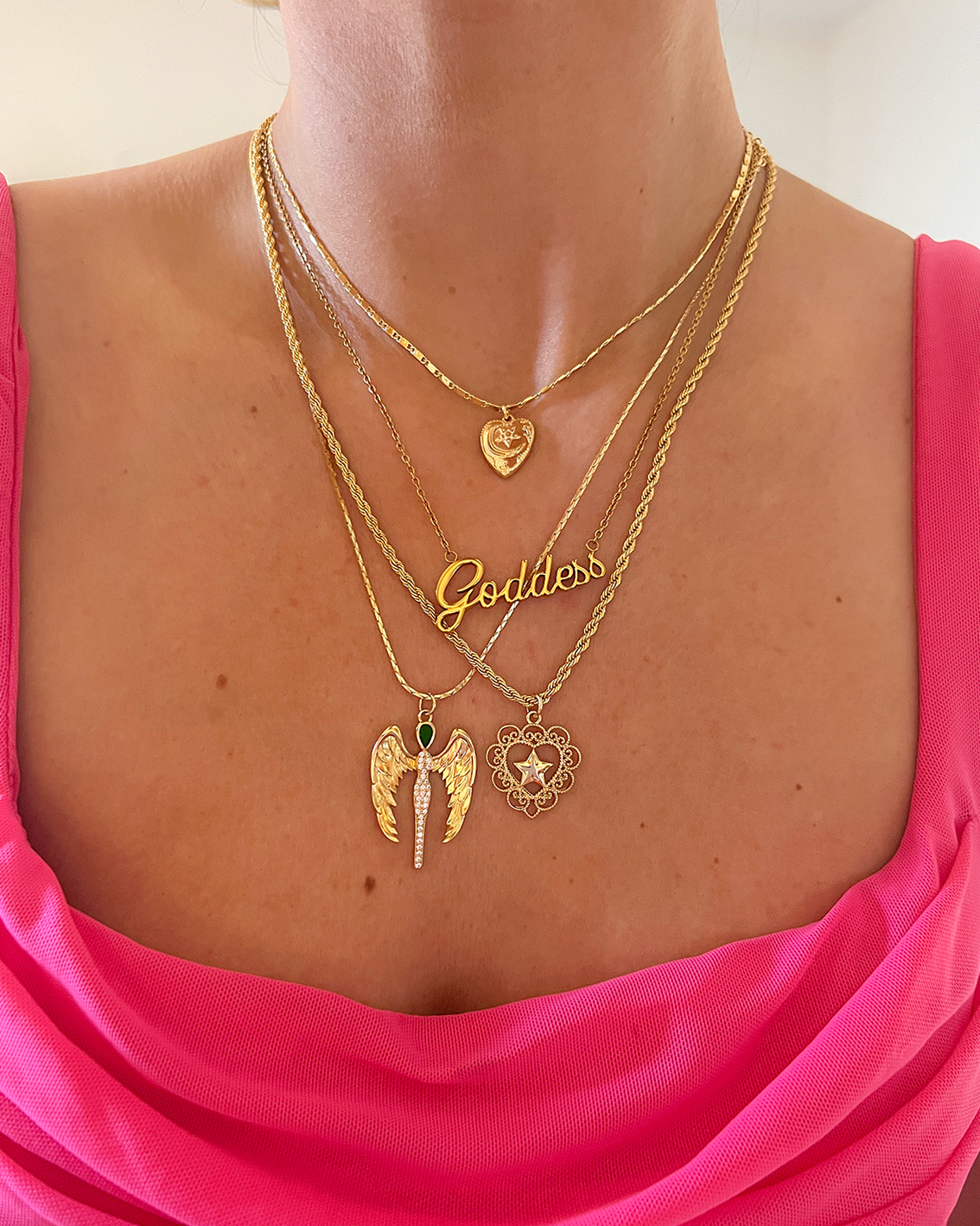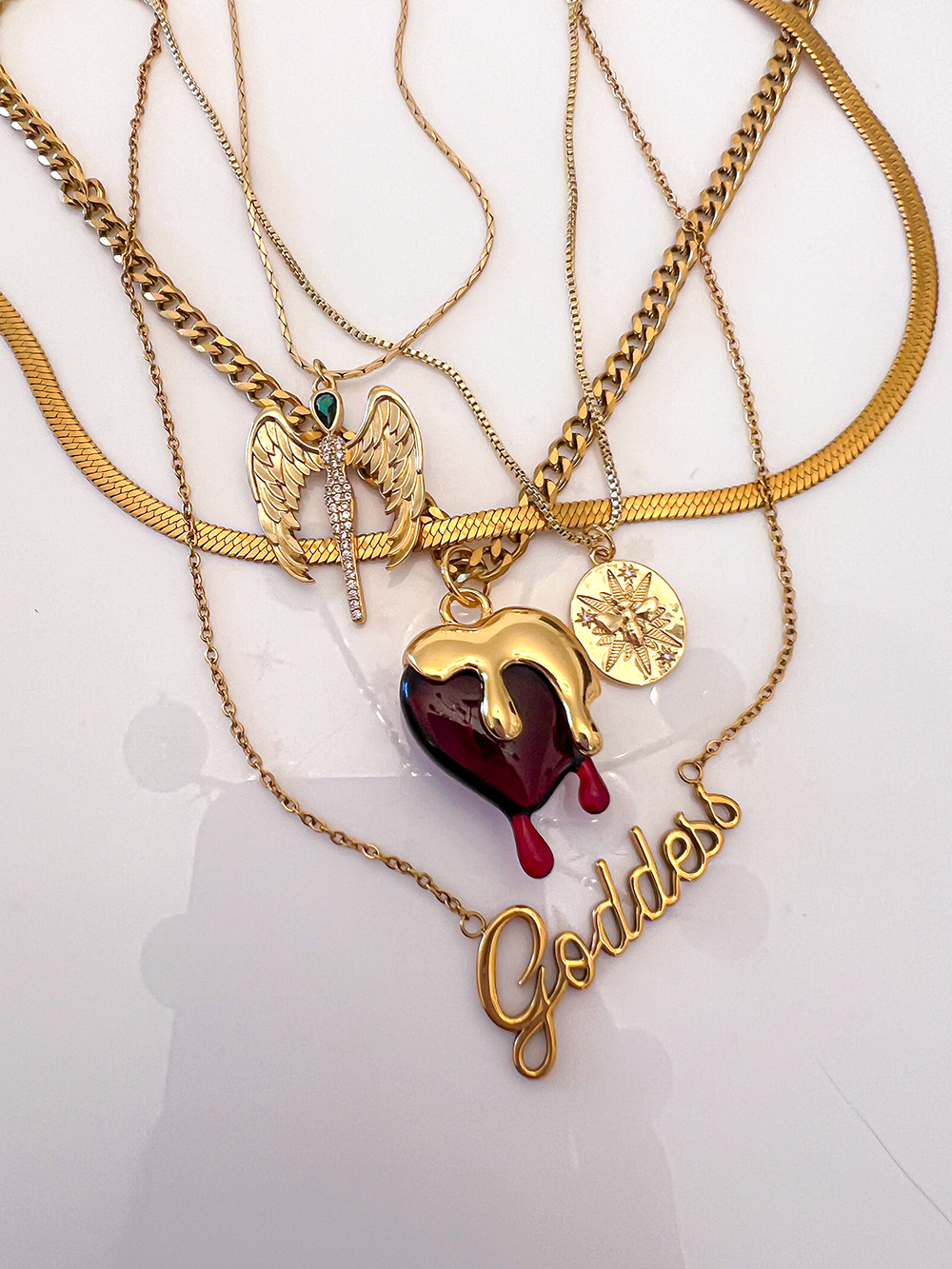 Goddess Rising Necklace
She allowed herself to be swept up in the depths of her inner darkness, only to be met with a light that revealed to her how her wounds would be transformed into her greatest gifts. The greater the pain, the deeper she went within. The deeper she went within, the higher she rose. And suddenly she realized, she is the light.
This winged female shaped pendant is a symbol of female power and resilience. She walks through the fire, embraces her darkness, wearing her shadow like wings, flying skyward through the smoke. Reborn and rising.
✦ stainless steel, non tarnish pendant set with emerald, and cubic zirconia stones.
✦ 18k gold plated copper chain measures 16 inches + 4 inch XVIII extender
Goddesses with Wings:
Isis: Egyptian Goddess of healing and magic. Both a protector of women and the bringer of magic. 
Eos: rosy-fingered goddess of the dawn. Sister to Helios (the Sun) and Selene (the Moon). With her Roman equivalent of "Aurora," she personified the glory of the new day.
Nike: Greek winged Goddess of victory.
Every Luna Lifted Gem is bathed under a Full Moon infusing it with moonlight 🌙
✦ All of our jewelry is made with either copper/brass, stainless steel, or sterling silver as the base metal with 18-24k gold layering ontop of it (see description for specifics). Because we use stronger base metals, your jewelry will not tarnish if properly cared for.
✦ Every piece is hypoallergenic, cadmium free, and nickel free. However, everyone's skin is uniquely different and may react differently to certain metals.
✦ See our JEWELRY CARE PAGE for more details.
✦All jewelry is shipped from Minnesota, U.S.A. within 1-3 business days (Monday-Friday excluding holidays). All apparel is shipped from California, U.S.A. within 1-4 business days.
✦All orders will receive an email with a tracking number once the order has shipped. Make sure to check your spam/junk folders if you don't receive a confirmation right after you order.
✦Shipping estimates are 2-4 business days for domestic (U.S.) orders and 5-15 days for international orders. **Delays may occur with shipping especially over the holiday season**
✦You have 30 days to contact us regarding a return or exchange. Please see our Shipping, Refunds & Exchanges page for more details.