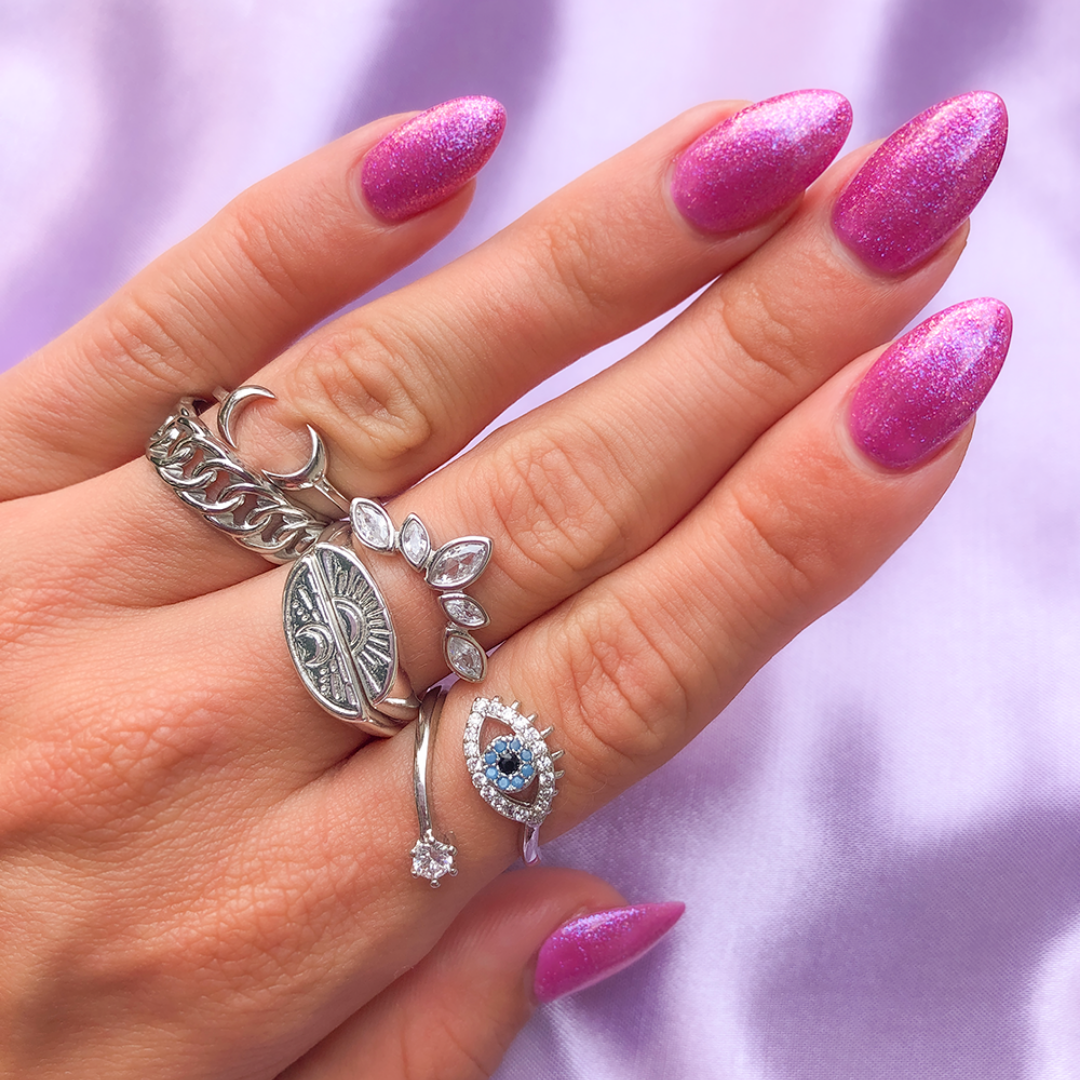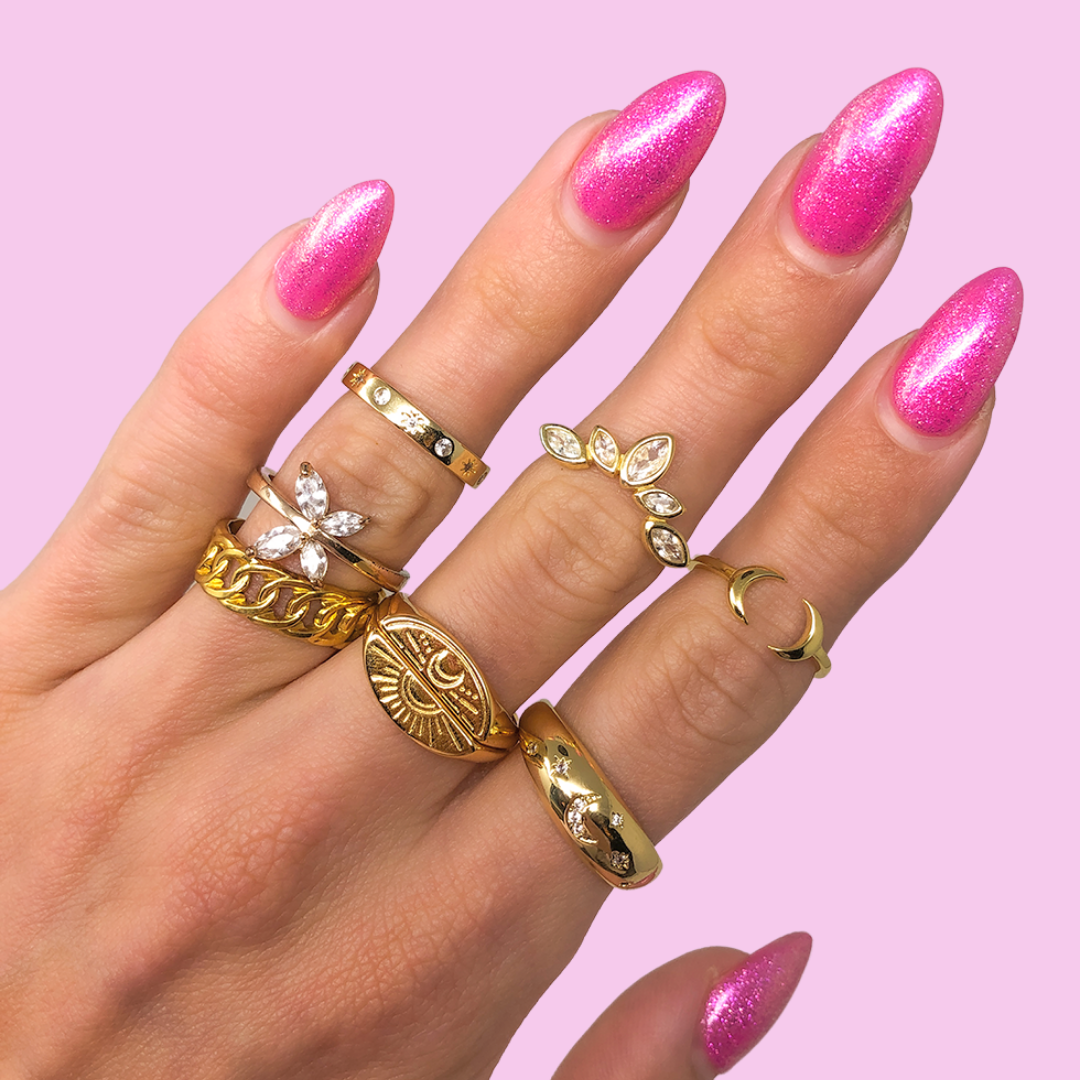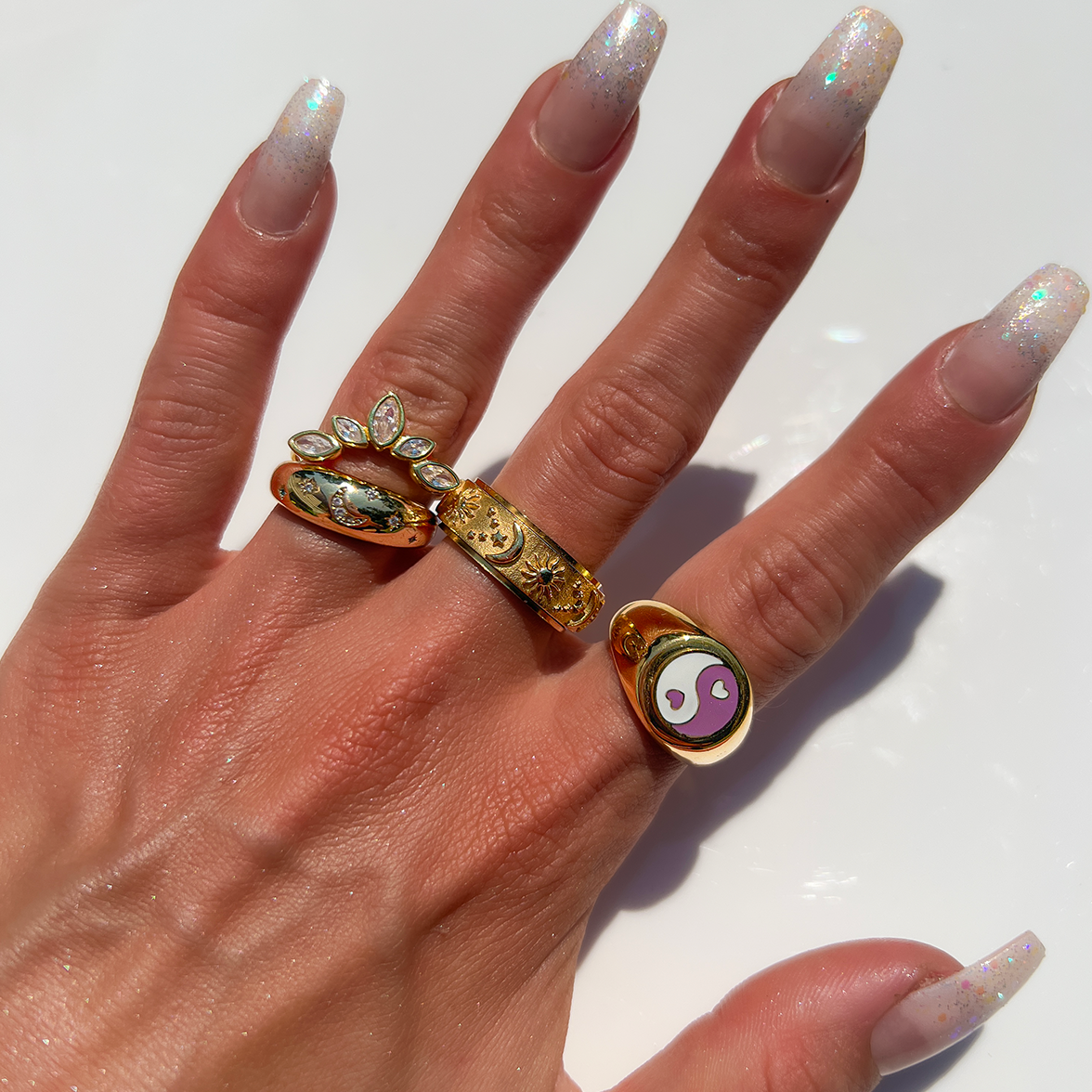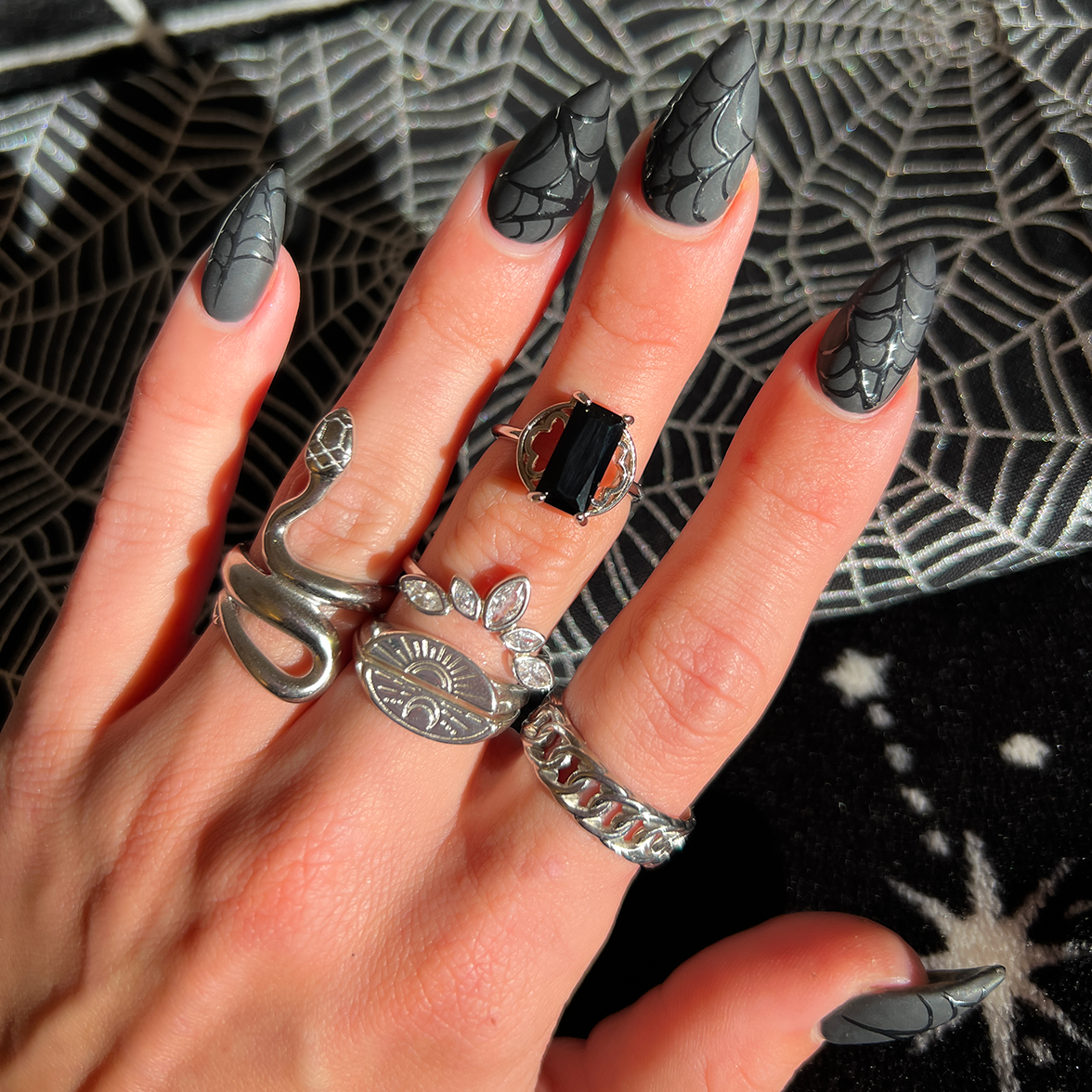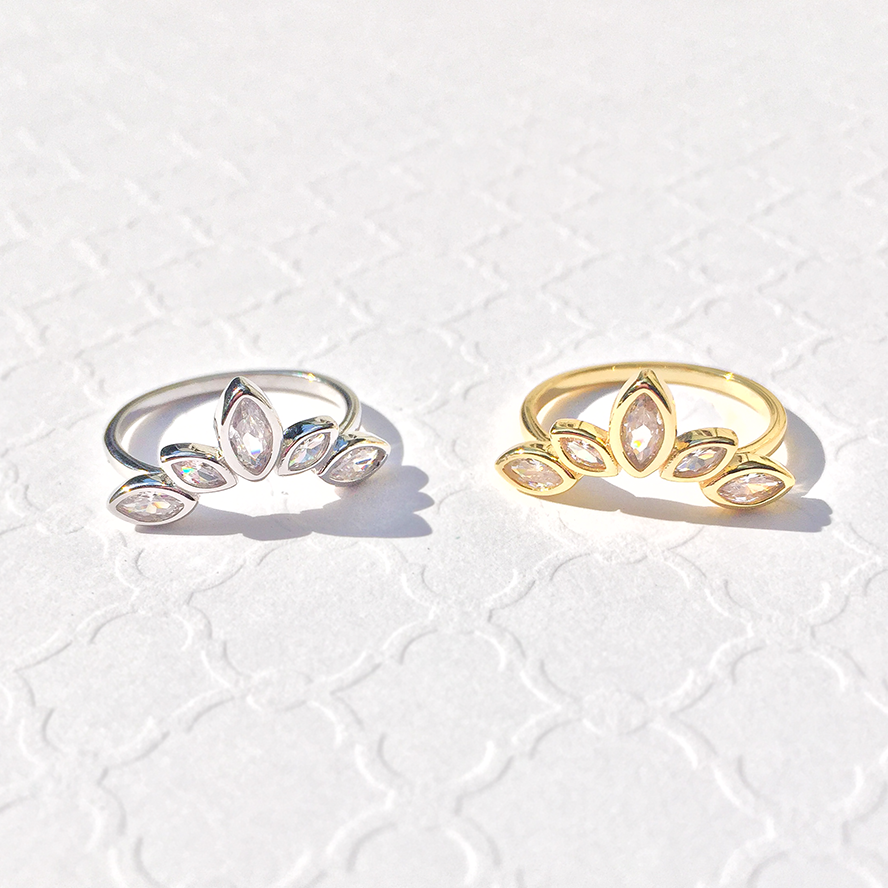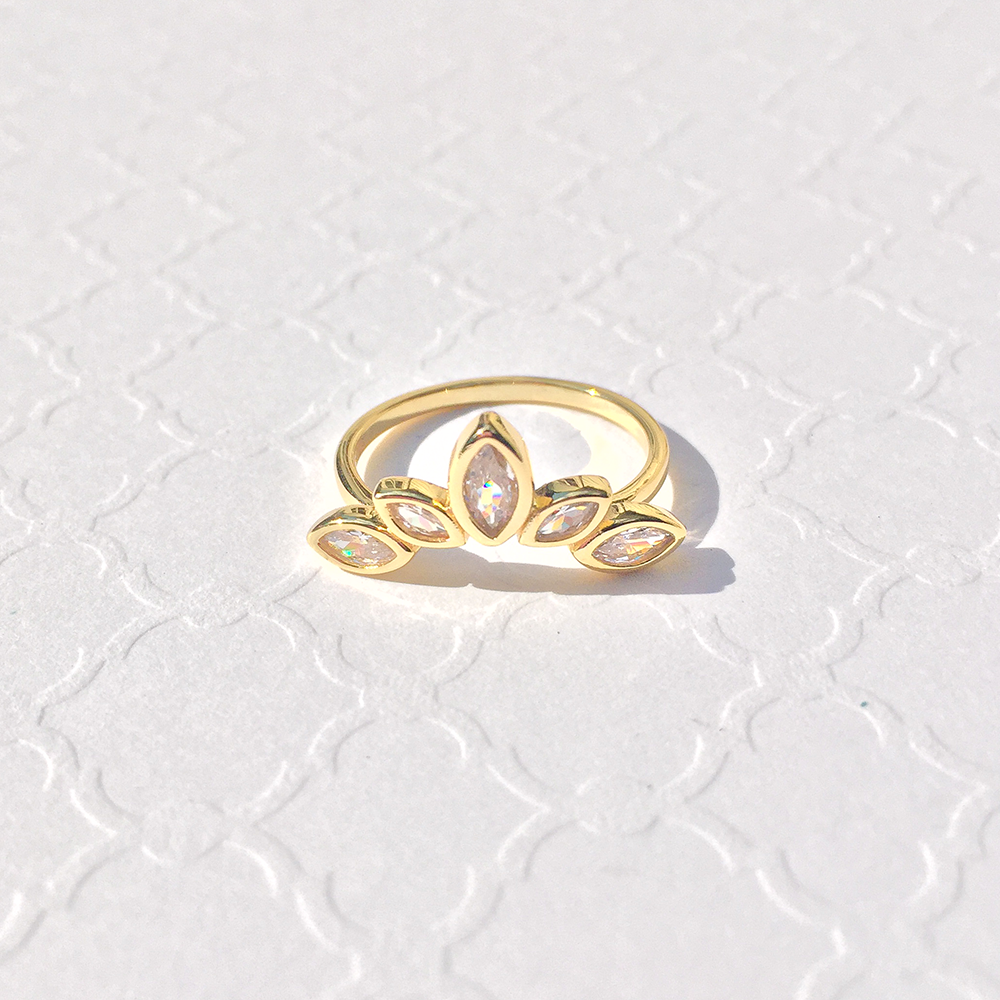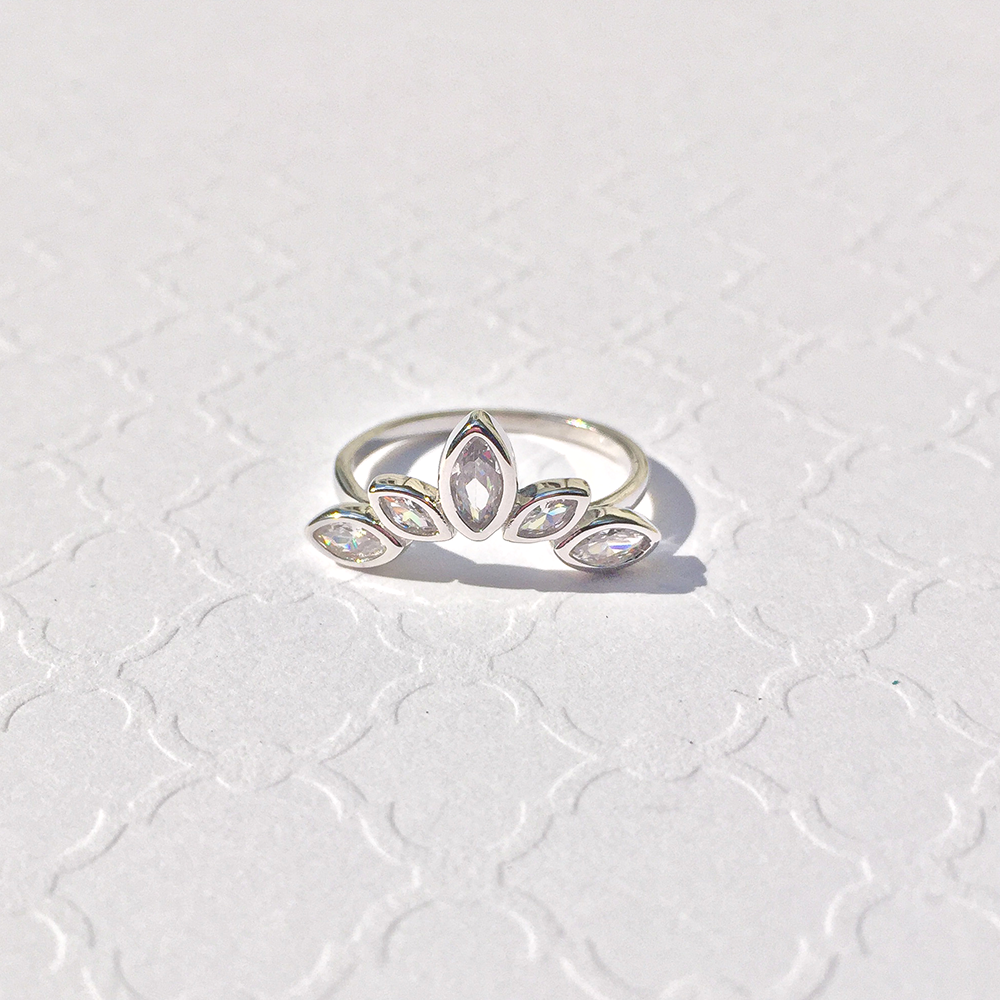 Lakshmi Band
Inspired by: Lakshmi [luhk-sh-mee] the Goddess of fortune and prosperity

Origin:  Hindu
Mythology: A partisan to the wealth of Earth and soul, this golden Goddess is often portrayed with four arms to represent the four Hindu goals of life: karma (love), dharma (morals and ethics), artha (purpose), and moksha (self-knowledge and liberation). In Hinduism, a male God is lifeless until paired with a female Goddess whose energy activates his power. Lakshmi is paired with Vishnu, who gives life and protection to all on Earth.
Lakshmi is said to have been born floating on a lotus at the creation of the universe. She's often portrayed wearing robes embroidered with stunning gold, and draped in the most beautiful jewels. This lotus style band is a symbol of Lakshmi, and represents perseverance through the darkness in one's pursuit of earthly abundance.
made of genuine 925 sterling silver with cubic zirconia stones
available in silver and gold

dainty band, perfect for stacking with other rings
Every Luna Lifted Gem is bathed under a Full Moon infusing it with moonlight 🌙
✨All of our jewelry is made with either copper/brass, stainless steel, or sterling silver as the base metal with 18-24k gold layering ontop of it (see description for specifics). Because we use stronger base metals, your jewelry will not tarnish if properly cared for.
✨Every piece is hypoallergenic, cadmium free, and nickel free. However, everyone's skin is uniquely different and may react differently to certain metals.
✨See our JEWELRY CARE PAGE for more details.
✨All orders are shipped from Minnesota, U.S.A. within 1-3 business days (Monday-Friday excluding holidays).
✨All orders will receive an email with a tracking number once the order has shipped. Make sure to check your spam/junk folders if you don't recieve a confirmation right after you order.
✨Shipping estimates are 2-4 business days for domestic (U.S.) orders and 5-15 days for international orders. **Delays may occur with shipping especially over the holiday season**
✨You have 30 days to contact us regarding a return or exchange. Please see our Shipping, Refunds & Exchanges page for more details.